Parking lots are often overlooked when it comes to general maintenance and appearance. If you are a business owner however, keep in mind that your parking lot is often the first impression that a customer will get of your business establishment. If your parking lot is currently being lit by HID (high intensity discharge) lighting, you are spending money on low quality lighting that consumes a significant amount of power and is expensive to maintain. In addition, you are not providing your customers with the brightness and safety that they deserve.
One of the easiest and most cost effective ways to improve the lighting and give your parking lot a much needed facelift is to install LED lighting. In 2007, the U.S. Department of Energy passed the Energy Independence and Security Act (EISA) which aimed to reduce energy consumption by requiring that light bulbs be made with an increased energy efficiency of 25%. As a result "manufacturers have shifted to more energy-efficient technologies, such as compact fluorescents, halogens, and LEDs."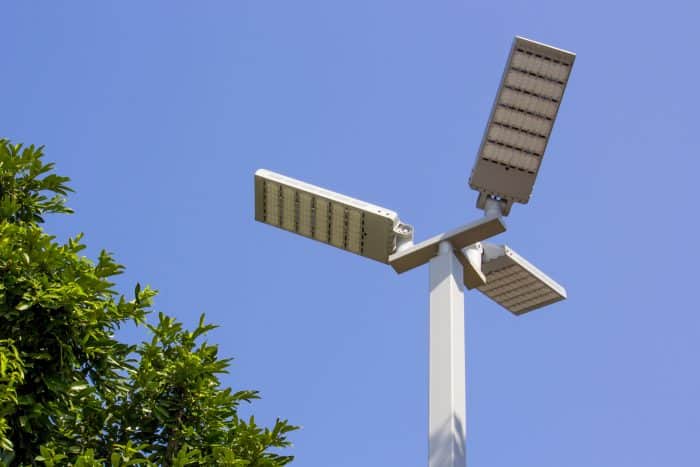 LED fixtures, such as area lights, flood lights or canopy lights consume up to 80 percent less power than HID fixtures and can last 50,000 hours or more—approximately three times longer than HID bulbs. LED parking lot lights consume significantly less power, require little to no maintenance and they provide an overall better quality of light, which makes them the best alternative to HID fixtures. With energy consumption that is less than half of what HID fixtures consume, LED parking lot lights save a great deal of money in annual electric costs.
Throughout their entire life span, LED parking lot fixtures maintain the same natural white or cool white color. In addition, LED fixtures deliver focused light with very low glare to ensure that specific areas are well lit, which is key to the security and safety of your property and parking lot.
Business owners agree that the best and most cost efficient way to upgrade your parking lot is to replace your HID parking lot lights with new LED parking lot fixtures.  The switch to LED lighting includes many benefits including:
Increased energy savings
Low maintenance
Long lasting
Increased safety and security
Enhanced brightness and color quality
Cost savings
If you are interested in upgrading the lighting in your parking lot to LED lighting, contact the experts RFG Electrical Contracting.  Their professional electricians have years of experience in the electrical industry and can expertly install LED lighting at your business location or even in your home. RFG Electrical Contracting has been providing exceptional electrician services to the Long Island community for almost 20 years. Call us to schedule an appointment and a free estimate today at 631-750-1550.