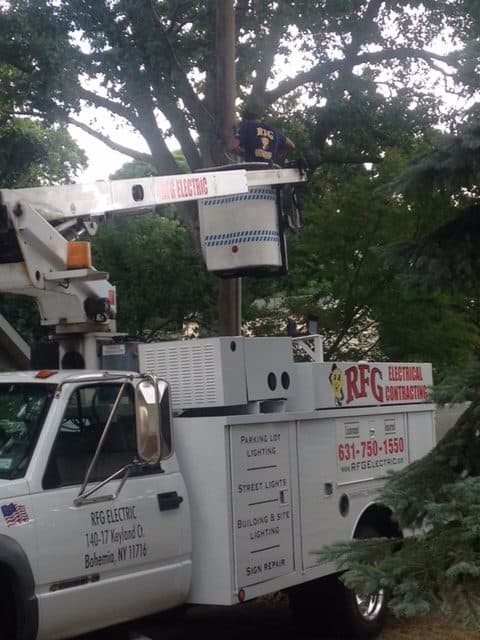 If you own a commercial business, especially one that is based in a large facility that has parking lot lighting, building signage and other forms of lighting at increased heights, you need to have an electrician that offers bucket truck services.  If you are unfamiliar with the term "bucket truck", it is a mobile truck that has an elevated bucket that allows a technician to be raised to specific heights to perform any necessary electrical work.  Bucket trucks are ideal for electrical jobs that may ordinarily be difficult to reach.
RFG Electrical Contracting has a fleet of dependable bucket trucks that can be used to perform electrical services on apartment buildings, warehouses, retail stores, restaurants, shopping centers, parking lots, sports complexes and anywhere there may be electrical problems out pf reach.
Parking Lot Lighting
As a business owner it is important to provide proper lighting to ensure the safety of your customers and employees alike.  If the lighting in your parking lot is not working properly it can be unsafe for everyone, it can also increase the chances of crime and vandalism.  Parking lot lighting is normally unreachable to fix, even with a ladder. A bucket truck however, can often be raised to up to 40 feet (or four stories in height) so any high rise electrical job can be handled. The lights in your parking lot can be easily repaired with a bucket truck, restoring a safe and worry-free environment for all.
Commercial Signs and Storefronts
Your business logo or retail store name is the heart of your business. A well-lit sign attracts customers and advertises your brand from afar. If the lighting on your commercial sign or storefront goes out – your brand name disappears from public view. A bucket truck is definitely needed to reach the signage on your building and restore the lighting.
Sports Complexes and Athletic Fields
So many sports are played at night these days. There's nothing better on a summer evening than taking the family to enjoy an outdoor baseball game or other sporting event. Even youth soccer games are often played at night.  But without proper lighting – the game will be cancelled and business will be lost.  An electrician with a bucket truck can easily fix the lighting in a stadium, park or sports complex so the games can begin!
Property Lighting
While they may be used more often in the commercial industry, bucket truck services are not limited to commercial use. Many property owners have raised lighting and tall light poles around their property or on the outside of their homes.  Only a bucket truck can reach this type of lighting for repairs.  Proper outdoor lighting ensures the safety of your home.
If you are in need of bucket truck services for your home or commercial business, contact RFG Electrical Services. They offer bucket truck services for the electrical repair and maintenance for a variety of situations. With twenty years of experience in the electrical industry they have the solutions for all of your electrical problems. Give them a call at 631-750-1550.